Graskop, window on the Lowveld
02/09/2015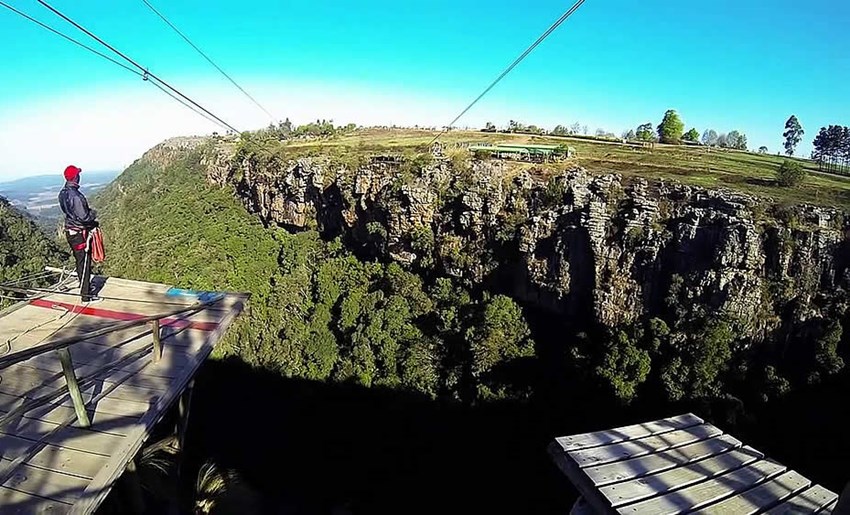 Graskop lacks the picturesque charm of some of the other little towns in Mpumalanga, but is a very convenient jumping-off place for exploring the R534 which begins just 3km north of the town – better known as the spectacular Panorama Route.
The Blyde River Canyon, Bourke's Luck Potholes, God's Window and the Sabie Waterfalls are all within easy driving distance.
Even a hardened cynic would find it difficult not to be awed by the physical and spiritual beauty of the outlook from God's Window, while the dramatic landscape of the Blyde River Canyon and its nature reserve, which stretches from Graskop right up to the Abel Erasmus Pass, is also magnificent.
Graskop owes its origins to the heady days of the 1880s gold rush, when hopefuls from all over the world flocked to the area. Today the area is surrounded by pine and eucalyptus plantations that stretch from horizon to horizon – the world's largest man-made forest at more than 4 million square km. Instead of the old ox wagons plying former trading routes, today you'll see huge timber trucks rumbling along the roads.
It's worth travelling east from the town to the scenic Koewyns Pass. Named after a local Pedi chief, it has panoramic views of the Graskop Gorge.
If you're driving a 4x4, take the Summit Route, rated as one of the top 4x4 routes in the country. It's user-friendly and takes you through some of the region's most dramatic scenery.
If you feel the need to stretch your legs, then choose the 8km, three-hour Jock of the Bushveld Trail, a circular route that starts in Graskop, traverses the edge of the escarpment through a 'forest' of strangely shaped rocks, before heading back to town.
TRAVEL TIPS & PLANNING INFO
WHO TO CONTACT
Graskop Tourism
Tel: +27 (0) 13 767 1886
Email: info@graskop.co.za
Graskop Hotel
Tel: +27 (0) 13 787 1244
West Lodge
Tel: +27 (0) 13 767 1390
Email: westlodge@icon.co.za
HOW TO GET HERE
From Johannesburg take the N4 to Belfast. Turn left on the R540 to Dullstroom and Mashishing (Lydenburg) and follow signs to Graskop via Sabie or Pilgrim's Rest.
BEST TIME TO VISIT
Any time of year is good, although winters can be very cold.
AROUND THE AREA
Blyde River Canyon, Bourke's Luck Potholes, God's Window, the Sabie Waterfalls and the Kruger National Park.
GET AROUND
Graskop is small enough to explore on foot but you will need a car to explore the surrounding area. Hire a 4X4 if you plan to go off the beaten track.
WHERE TO STAY
The Graskop Hotel, central and comfortable, or West Lodge, a charming Victorian-style B&B.
From: South Africa Tourism Blog
Last Posts